Chevelle Restoration and Authenticity Guide - 1970-1972
Get our Chevelle Restoration and Authenticity Guide 1970-1972 Book PLUS 1970 Build Sheet Decoder Package Deal Here
This new book is co-authored with Rick Nelson of Musclecar Restoration and Design. Rick is one of the premier 1970 Chevelle LS6 restorers in the country today. The book is an in-depth, step-by-step restoration guide for, primarily, 1970 Chevelles with 1971 and 1972 models being very close in their approach. Many, many of the hints and procedures can easily be adopted to other years of Chevelles as well. Details like propeller shaft stripe colors for most engine/transmission combinations, tire pressure labels, engine tune up labels, along with other authenticity tips to help you correctly restore your 1970-1972 Chevelle.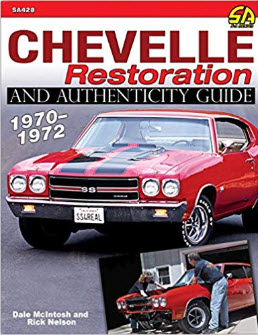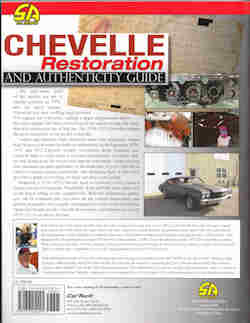 Chevelle Restoration and Authenticity Guide 1970-1972
See what's in the book



Eastern Hot Rod Association - 2019
| | |
| --- | --- |
| | |
| Summer 2019 issue of Bone Stock Magazine | Old Cars Weekly ~ October 2019 |
---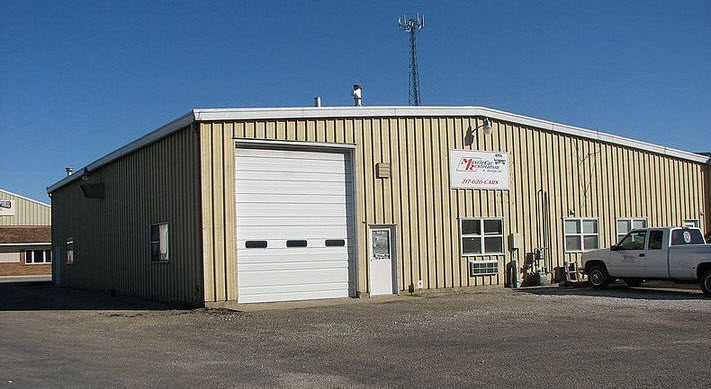 Rick's Musclecar Restoration & Design shop in Pleasant Plains, IL.
---
Pricing includes shipping to a U.S. mailing address via Media Mail or USPS Priority. Both UPS and USPS charge $25 and up for International shipping. I can certainly do that but please write before ordering with your EXACT country's mailing address and I'll look it up online at USPS.com and see what the charges are and get back with you as quickly as possible with shipping costs. Be sure to check with Amazon.com in your country as well for availability as their rates may be an advantage.
Group (club) orders of 10 or more qualify for a group discount when sent in bulk to ONE mailing address, typically at least a 10% discount. If interested in a group buy, let me know how many BEFORE ORDERING so I can set those aside from individual sales and I will send you a quote.
The
Restoration and Authenticity Guide 1970-1972
is my fourth venture into the world of writing books on Chevelles. This 8.5 x 11 guide is an invaluable resource of information and covers many aspects of restoring your Chevelle. Although it is aimed primarily at the 1970-1972 model years, many of the tips, tools needed, and procedures apply to any year Chevelle.
Price is $43.95 for USPS Priority Mail (

2 to 3 working days

) or $39.95 shipped USPS Media Mail (

2 to 9 working days

) for your personalized autographed copy to any U.S. mailing address, $55.95 to any Canadian mailing address, and $65.95 to Europe/England. See above for international shipping to Europe/England/Australia/etc. - $65.95 is ONLY A GUIDE LINE.
If the recipient's address is outside North America, please contact me with EXACT mailing address for country before ordering so I can check on mailing/shipping rate and give you a quote.
Mailing labels are printed off information on your PayPal/Credit Card receipt - be sure it is accurate!
2 copies currently in stock as of:
---
All books will be autographed to the first name on the PayPal receipt unless otherwise specified in "Instructions from buyer" or "Instructions to merchant," whichever applies on your order. After placing your order you will be redirected to another page where you can specify a personalized greeting, and/or, the recipients address if different from PayPal account name.
Because Rick and I are 700 miles apart those ordered here will only be signed by me. You are welcomed to contact Rick via his website to obtain his autograph as well.
---
Once you have placed your order you will be directed to a page to fill out a form if this is a gift. Name/Address are for the recipient. In the "Comments - Presentation" section please include text you would like to appear along with the signature such as, "Happy Birthday, Mike. I hope you enjoy this book." Your comment/presentation will be included along with the current date and signature.
If this is NOT a gift for someone simply close that gift page.
---
Although Rick specializes in 1970 LS6 Chevelles, his talents can be seen in other restorations he has been involved with.
---